After saying goodbye to the patients we had only 1 thing on our minds. V A C A T I O N!! Early November, Sam had found cheap tickets to China from Manila. So we decided to buy tickets and go to China for the first week in February. After telling our plan to our younger sister, Katie, she decided that she wanted to tag along too. So we found her a ticket to China. From there we planned this whole elaborate trip which we referred to as "The Asian Experience". We planned to spend 5 days in China, then come back to Brooke's and give Katie a taste of mission life, then we were gonna head to Indonesia and Singapore and then head back to Manila to send Katie back to the states. It was going to be perfect....until.....2 days before we left.
Sam just happened to look at a website that informed her that you need Visa's to go to China. We were so oblivious, we thought our American Passports were like gold and could get us in ANYWHERE. Well we were wrong, $140/person wrong, to be exact. We considered attempting to get the totally, ridiculously expensive Visa's because Katie was still flying into Beijing. But it was currently the Chinese New Year, so no Chinese embassy's were open. Well we were stuck. We didn't know what to do. We called Wendy and she said that we could stay with her parents in Manila, so thats what we planned to do. We still had no idea what to do with Katie, but luckily God had His ever-watching eye over the situation and he sent a HUGE snowstorm across the entire midwest. (Yeah, sorry everyone. We take full responsibility for that storm) This huge snowstorm cancelled her flight to Beijing, resulting in a full refund, so Katie could buy a new ticket round-trip to Manila. We were SOOO excited! If we weren't gonna see the Great Wall or eat Chinese food, it was all good as long as we got to see our Bunso. (Bunso is a Tagalog word meaning the youngest child in the family.)
So we packed up our stuff and headed for Manila, the armpit of the world (as put by Danny, one of our fellow missionaries. lol) It was really nice. Any opportunity we have to spend time with Wendy's parents at AIIAS (Adventist International Institute of Advanced Studies) we take it. Because the campus is gorgeous, the food is incredible, and the company is amazing! We spent the weekend there and enjoyed listening to their guest speaker, Clifford Goldstein. Then Sunday night we drove to the airport to pick up our sister.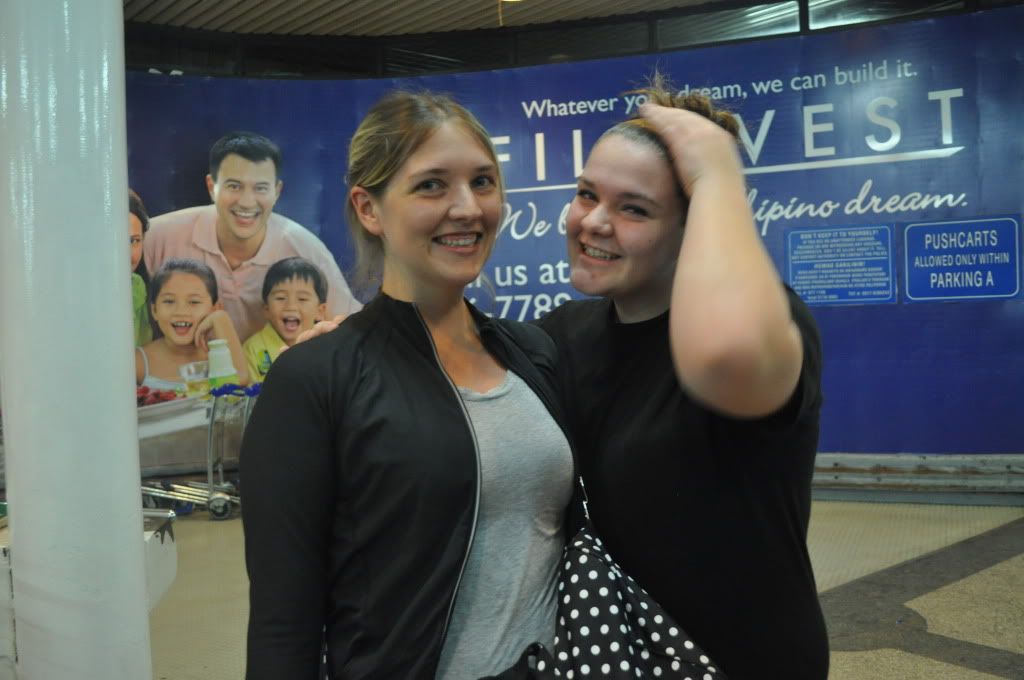 We were SOO excited to see her. She was the first glimpse of home that we had gotten in such a long time! Our first reaction when we saw her was, "Wow, you're SOOO white!!" We headed back to AIIAS and went to bed because the next morning was a very, very important morning. IT WAS SUPERBOWL MONDAY!!!
We have to admit, it was kinda sad that our own Green Bay Packers were going to the Superbowl the year we were out of the country. But regardless, we showed our Packer Pride even here on the Asian side. Then the Packer fans started coming out of the wood work. Allison had to keep her camera handy because Filipino's sporting the COLORS were everywhere.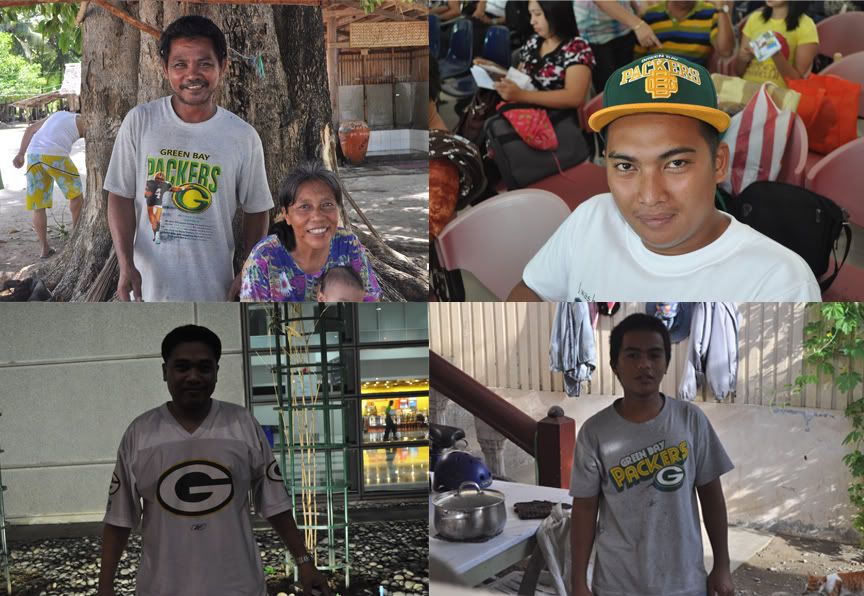 Even one of our very own missionary friends, Jam, showed his support of the Green and Gold....and Red, White, and Blue for that matter. ;)
Wow, Even a Filipino can sing it better than Christina Aguilera....jk ;)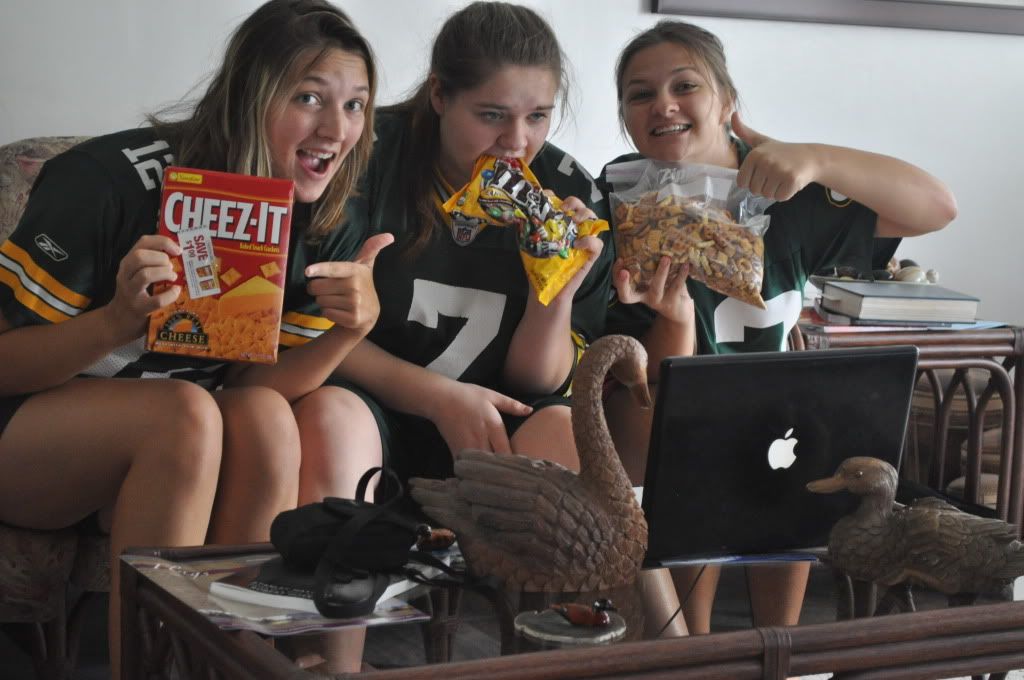 Anyways, we woke up early Monday ready for the Superbowl. We had everything you need to make a Superbowl party great: Game day snacks. CHECK! Jerseys. CHECK! Family. CHECK! The game......the game.....THE GAME?!?!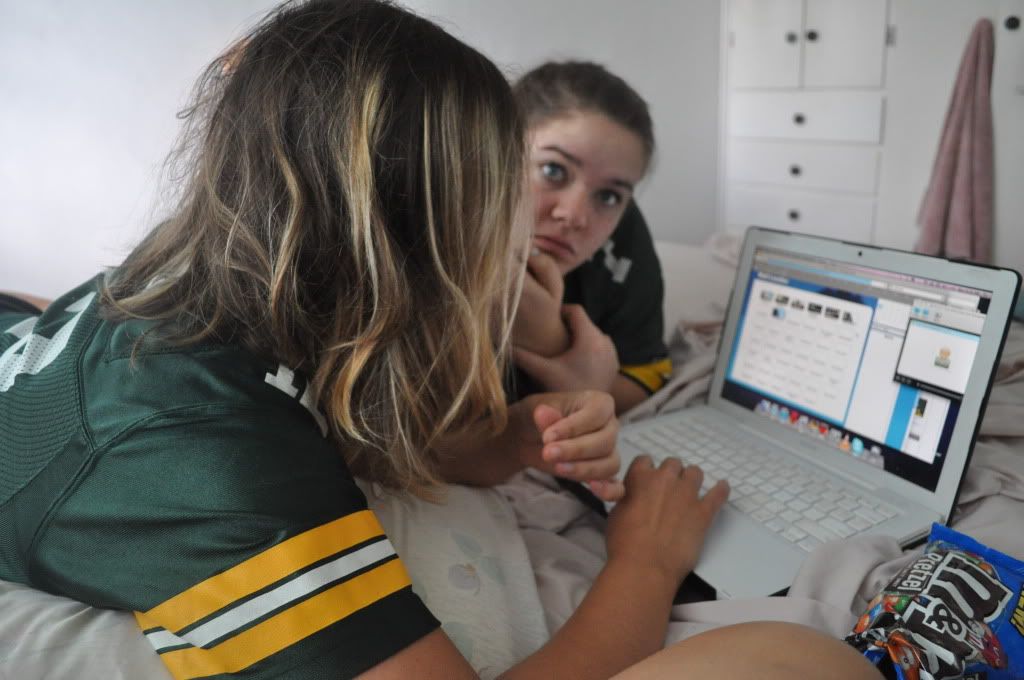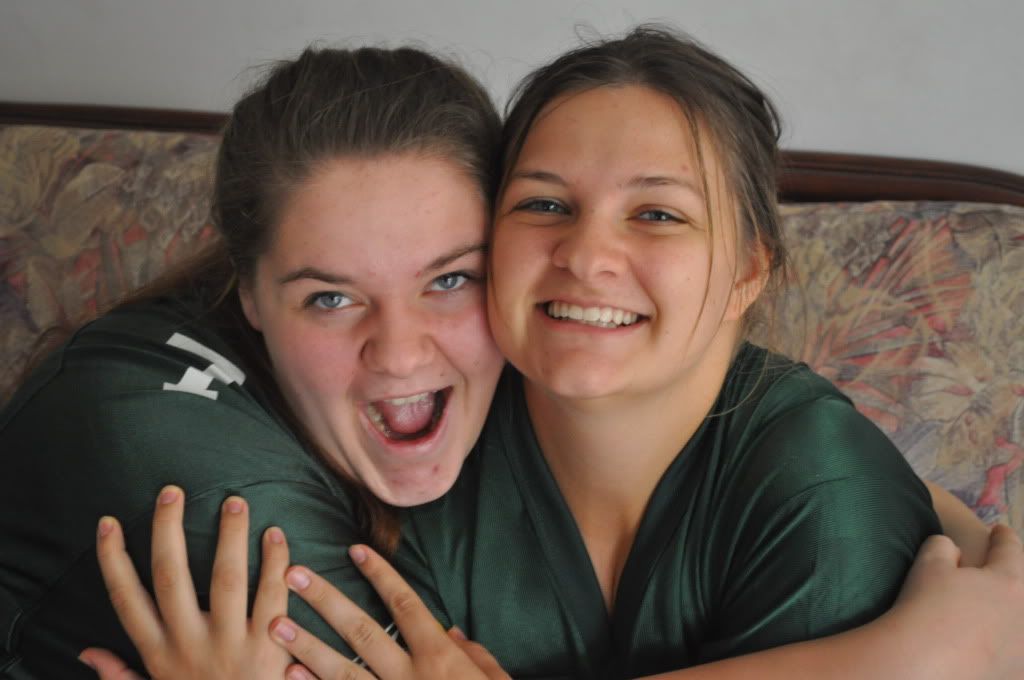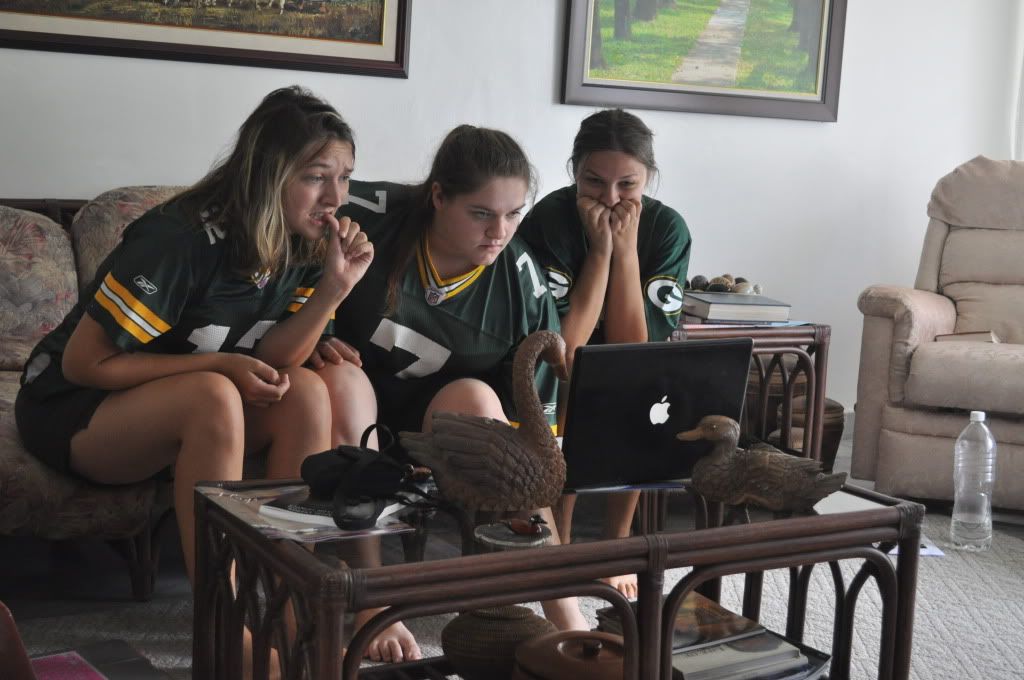 Sadly, much to our dismay, We tried to get the streaming site up to watch the game LIVE and it wouldn't work. We tried numerous times and it still wouldn't work. That was our only plan. We didn't know what else to do....so we skyped our mom. We would've like to watch the game with our family but they were all downstairs and the internet in our house doesn't reach downstairs. So our mom, being the smart one, put her computer (that was connected to us on skype) next to the local radio station and we listened to the play by play on the radio and then read the updates on Packers.com. It wasn't exactly the most ideal way to watch the Packers in the Superbowl, but it sure beat the alternative.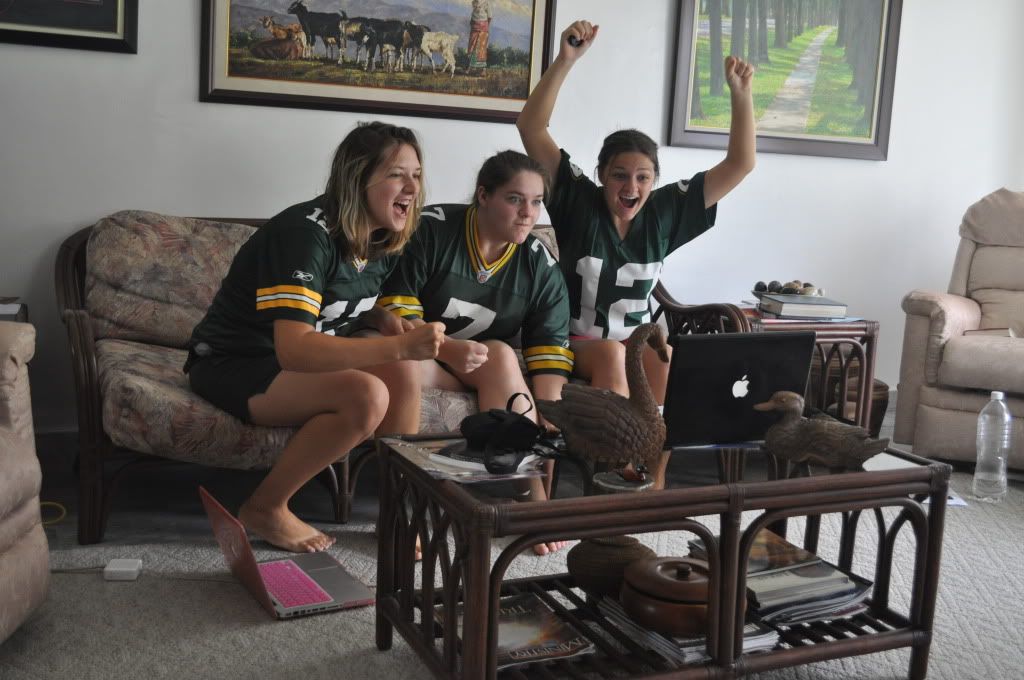 We were so happy to watch the game with Katie. It felt like we had a piece of home with us and it just made it so much more special. The game was also a very exciting game to watch. Our emotions were on a roller coaster. We'd be biting our nails and then screaming at the top of our lungs....
And...well, I think we all know the outcome of that game,
THE PACKERS WON THE SUPERBOWL!!!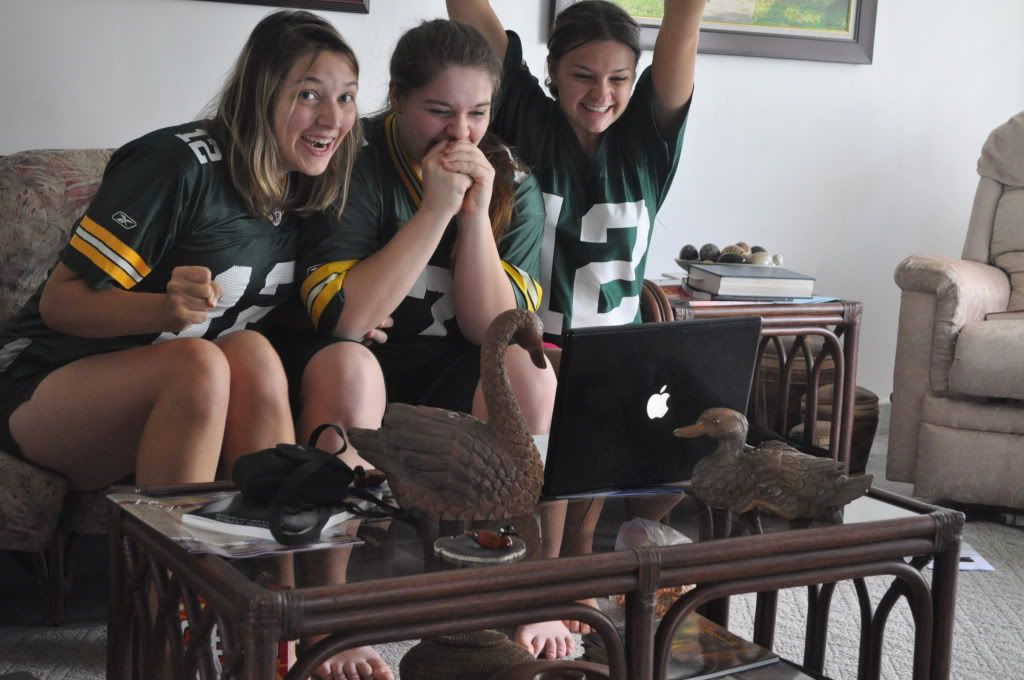 We were all SOOO excited. We sported our jerseys the rest of the day. When people asked why we were dressed up, we'd try to explain to them....but they just didn't understand. But that didn't matter because we knew that back home in the little city of Green Bay we had a whole bunch of people who TRULY understood how we felt that day.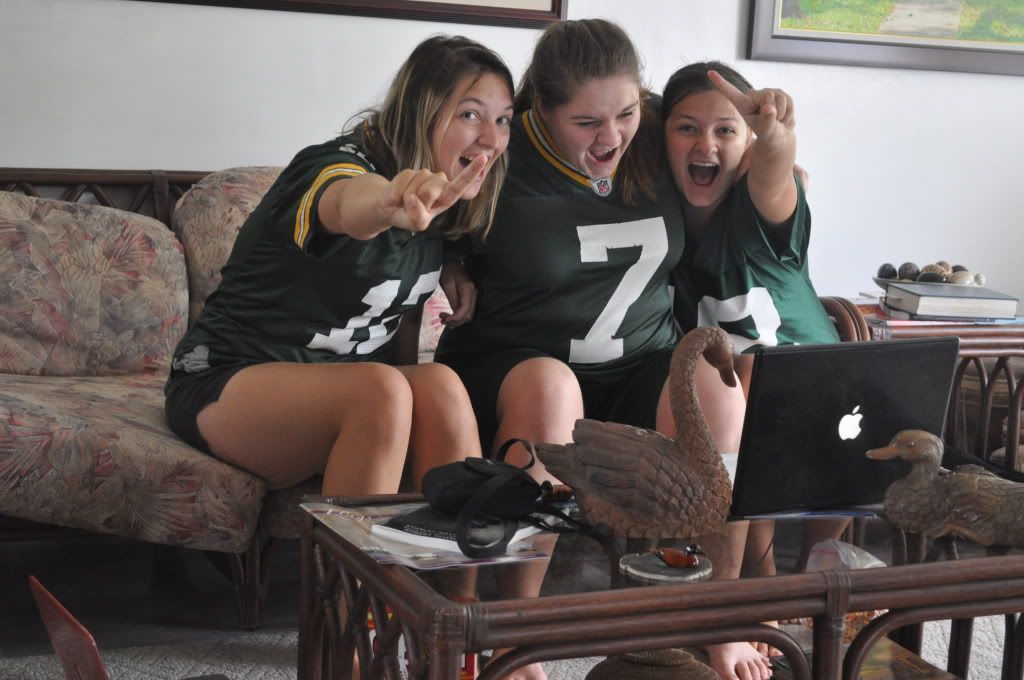 And so lives the age old question:
Hanaway Sisters, The Green Bay Packers just won the Superbowl, What Are You Gonna Do Next???
We're gonna hike up a Volcano!!!
Till next time...
~Me and Her (and the Bunso)