Allison and her 6 patients arrived back at Brooke's Point on Friday. Allison was so relieved to be back and to be able to sleep in her own bed again. The patients were going to stay with us at the apartments for the next week and it was our job to entertain them.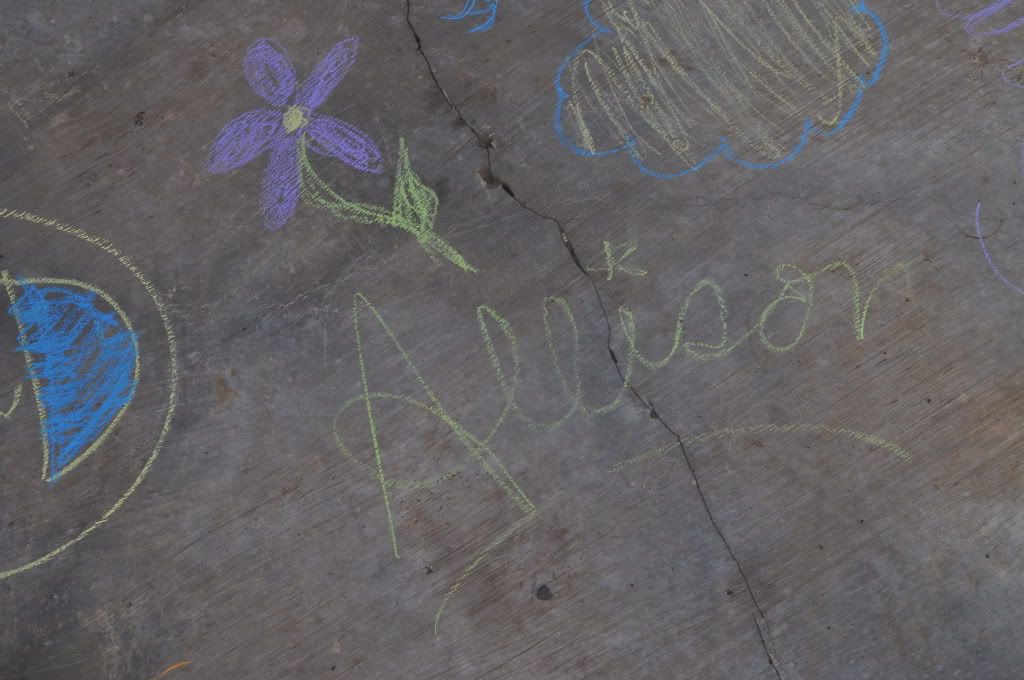 Our first day back, the patients secluded themselves inside the apartment. "We should do something with them, but what can we do when we can't really talk." Then we remembered we had some sidewalk chalk that we had received in one of our care packages from Southern. So we grabbed the chalk and called them outside. We opened the chalk and put it on the ground. They gave us a look like, "um...ok?"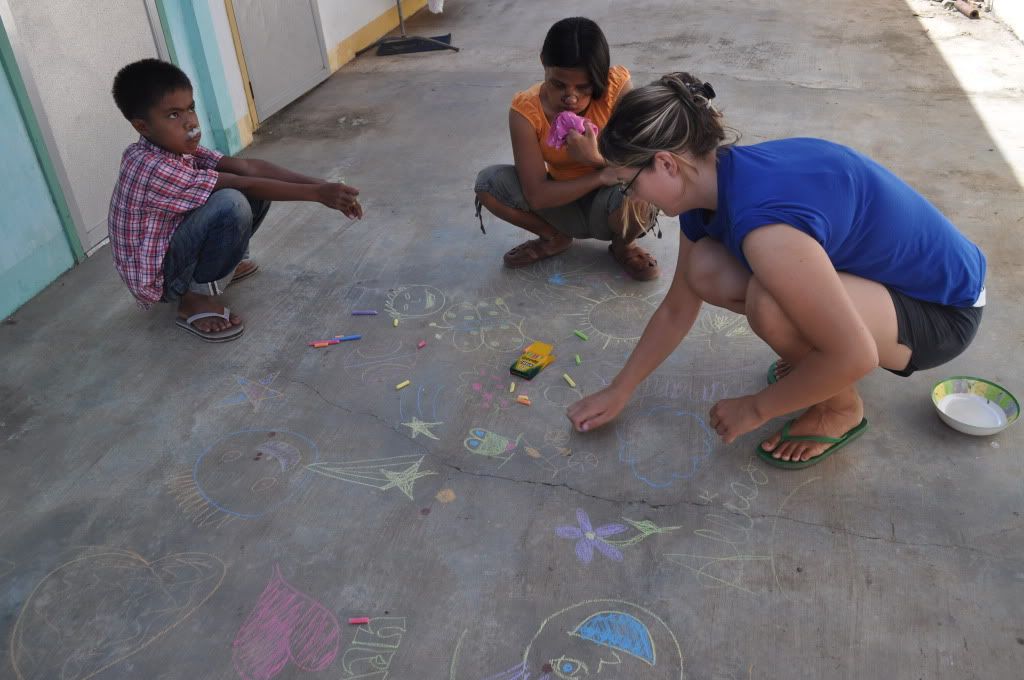 So Sam picked up a piece of chalk and drew a quick heart on the ground and they looked at her with wide, unbelieving eyes. "Sam, I think they might be worried that it won't come off." Allison suggested.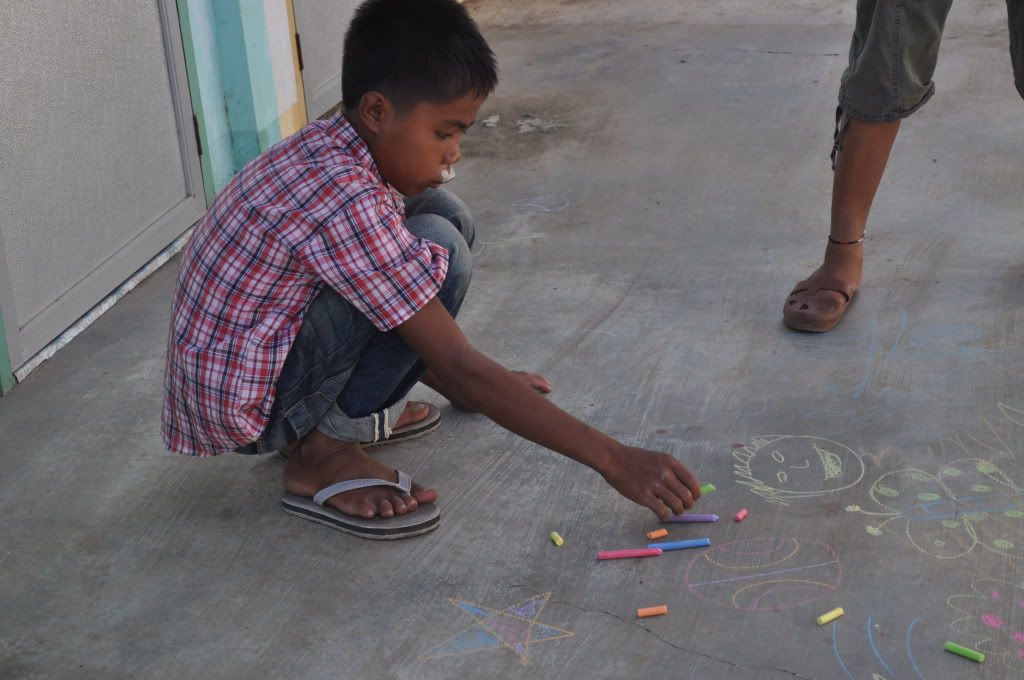 "Oh, ok. I'll be right back" Sam said and she ran inside the house. She came back out with a bowl of water and threw it on her heart. The heart began to fade away. "It's okay, guys. It disappears with the rain." After they were assured that they weren't going to be damaging anything, Aina and Reynan began to draw. We decided to join them, since we hadn't used chalk in a long time. Its crazy how much fun it is. The chalk kept them occupied for hours that day.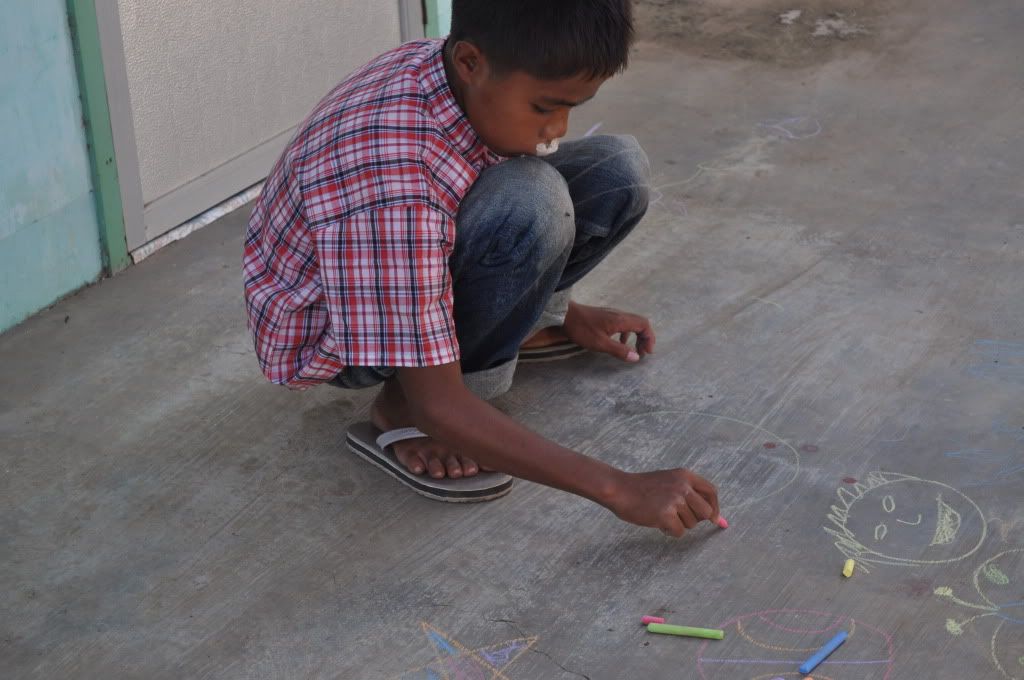 After breaking the ice with the chalk, Aina and Reynan would come to our pink house often. The sad thing is, we were never doing anything interesting. Mainly just cooking, cleaning, or doing stuff on the computer; but they just LOVED to watch us. One day, Sam decided she was gonna return to her Polish roots and take on the intense task of making pierogies. They really enjoyed watching her cut, stuff and fold each one. They turned out wonderfully and tasted delicious. The patients enjoyed them as well.
Even the adults enjoyed the chalk.
One day, while everyone else was playing with the chalk, Reynan became bored with it and came to sit in our apartment. The day was still young so we felt bad having him cooped up inside. "Hmmm....they had never heard of chalk...I wonder if they know what bubbles are." Sam thought to herself. So she grabbed the bubbles and called Reynan back outside. She started blowing the bubbles at Reynan. He got really scared when he first saw them. He kept dodging them and looking at them like they were aliens. One bubble was caught by the wind and started to fly over the wall. He was amazed by it. So Sam kept blowing more bubbles.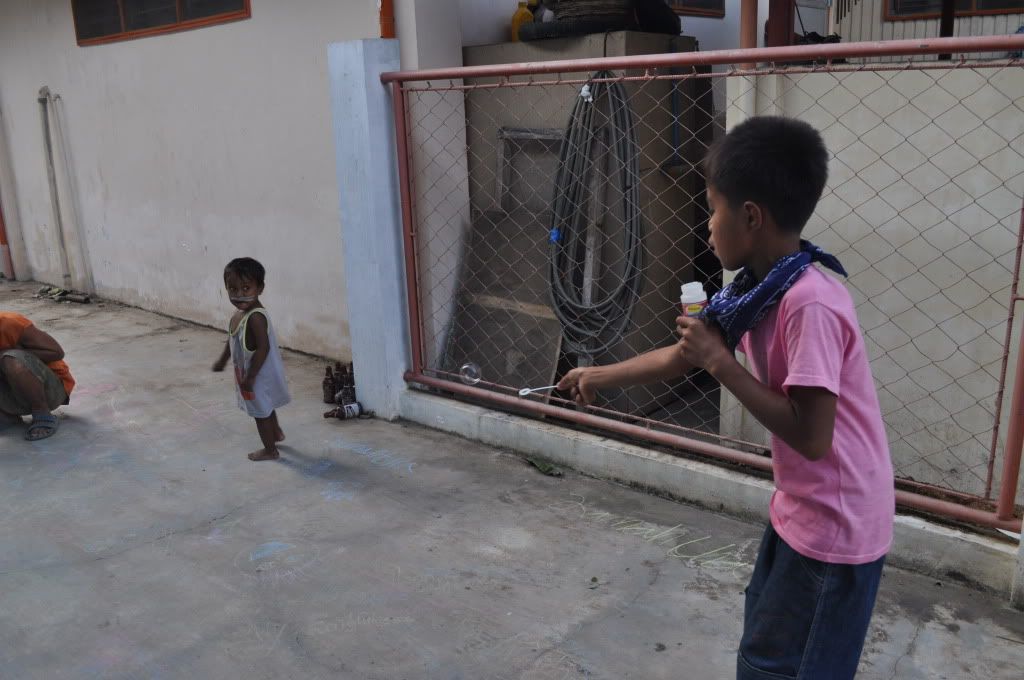 He'd always dodge them, but when they were floating by him he would try and catch them. Sam then called Nuni and his dad out to see the bubbles. Nuni thought they were hilarious. Soon everyone was outside watching Sam make these mysterious objects. Sam put the wand in front of Reynan's mouth, but he didn't want to blow through the wand. So she put the wand in front of Reynan's Grandpa's mouth.
Reynan tries to blow bubbles.
The Grandpa blew the bubbles and Reynan thought that was the funniest thing in the world. He started to laugh and then covered his mouth and ran into the house cause he was laughing so hard. He couldn't believe he was seeing his Grandpa making the bubbles. Soon after, Sam left the bottle with everybody and they kept having their fun. Reynan played with them for hours.
One of our favorite moments happened later that day, Reynan was finished with the bubbles and he came into our house to return them. As he walked by our stand-up, electric fan, he stopped. Then suddenly a mischievous grin came over this 12 year olds face, something we had NEVER seen before. He quickly opened the bottle of bubbles and pulled out the wand and placed it in front of the fan. Suddenly our little pink kitchen was inhabited by many tiny bubbles. Reynan thought this was funny, he started to giggle and then ran out of the house giggling to himself. Such a sweet little boy.
But soon enough, after spending a week in Brookes, the patients had reached the point of their healing where they could take care of themselves and they headed home. But not without leaving notes of gratitude behind.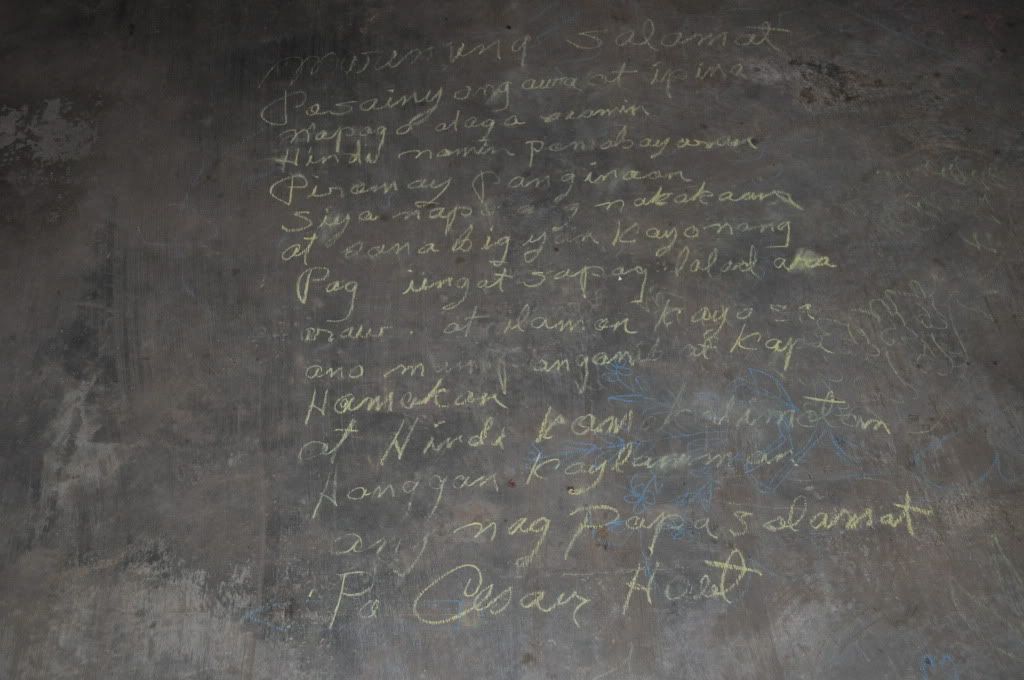 The first was from Sisal, Reynan's grandfather. He wrote a letter, in chalk, on our driveway. Translated it read: "Thank you all so much for your hospitality and kindness. Me and my family have never been treated so well in all my life. I will never forget it. God Bless you all."
The second was written by Aina. Right before getting on the bus to leave, she slipped a note into Allison's hand. It read: "Im very thankful to God because of you, mam Allison. For your kindness you've shown to me when I was in the hospital. You are so patient to me and also to my colleagues. You are always by my side, you did not left me at all times. In behalf of the group I want to extend my apology for taking your time so much. I thank God so much for giving a person like you. You know what, before I dreamed to meet a person who will care for my situation, and you are a fulfillment of that dream. Thank you so much. Now I see clearer all the plans of God for me, I feel the new hope for my future. I hope God will forgive me in all the sins I have done before. Again, thank you so much for all of you especially to you, Ate* Allison. I will never forget you. God bless you and take care of you always. Aina"
[*Ate (pronounced ahh-tay) is literally translated as elder sister. But Filipinos use it to address all women. It's a sign of respect, like Mam or Miss.]
THIS is what it's ALL about!!
This adventure made being here in the Philippines so worth it and being a missionary so worthwhile, if only to give people something they've never experienced...A normal life.
These are the Before and After shots of all 4 patients. (Keep in mind, they're all still pretty swollen and a lot of their stitches haven't come out yet.)
NUNI
REYNAN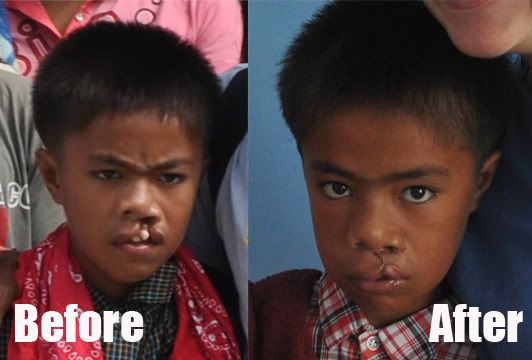 AINA

We have definitely been changed for the better by knowing these patients, we only pray that we left the same impact.
**Recent Update: We recently heard back from the missionaries in Balabac. When the patients arrived home, the church had a Welcome Back service for them. It was at this service that many family members saw them for the first time. They were greeted with smiling faces and tears of joy. Someone also had run and found Aina's dad and invited him to the service. He fell down and cried at the sight of his beautiful daughter. We also learned that Usah, Reynan, his Grandfather, and Aina all attend church regularly. Praise God!! He is SOOO good!! We've planned to go down and see them the week before we leave. So we will be able to update with better after pictures as well as more stories about their personal and spiritual growth! Yay!