What else can we say, besides, WE'RE SO SORRY! Things have been SOO crazy around here. We realize this is no excuse...We were ashamed when we finally had a moment to ourselves and realized that our most recent blog post is discussing the first week in February and its almost the end of March already. We're experiencing a major blogging FAIL! But we're going to try and make it up to you by giving you all a FREE Bobble-head....darn, we just ran out....So, instead we're going to give you all the pictures and short descriptions about our Southeast Asian Tour with Katie. Without further adieu, here's February in a nutshell: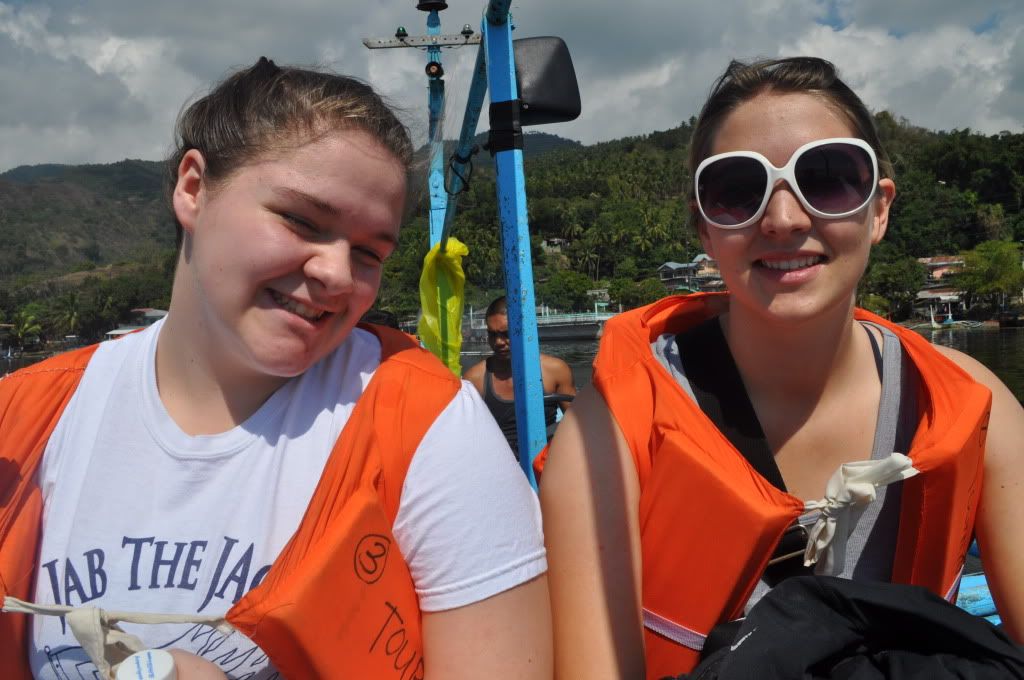 After watching the Packers kick major butt in the Superbowl we set out on a little adventure of our own. We decided to hike up the Taal Volcano in Tagaytay city. So we woke up early and headed out. We were warned ahead of time to beware of the "tourist traps". 1) They were gonna try and convince you that you needed to ride a horse to the top (which was about $20 a person) 2) They were gonna try and convince you that you need a tour guide [just to walk up the straight path] (which was about $10 a person) 3) They were gonna try and convince you that you need a face mask (which was about $5 a person).
But since we were made aware of these, we could easily say No. We very much enjoyed the hike, but it was definitely a workout. It was cool because every once in awhile you would see steam coming out of the mountain and it smelt like the end of a firework show. By the time we got to the top we were worn out. But the view was breath-taking! After enjoying the view for 30 min. we began the hike back down the volcano. Afterwards we treated ourselves to Starbucks, yum!! Here are the pictures of our Volcano hiking adventure:
Sam and Katie put on tough faces as they hike to the top of the Taal Volcano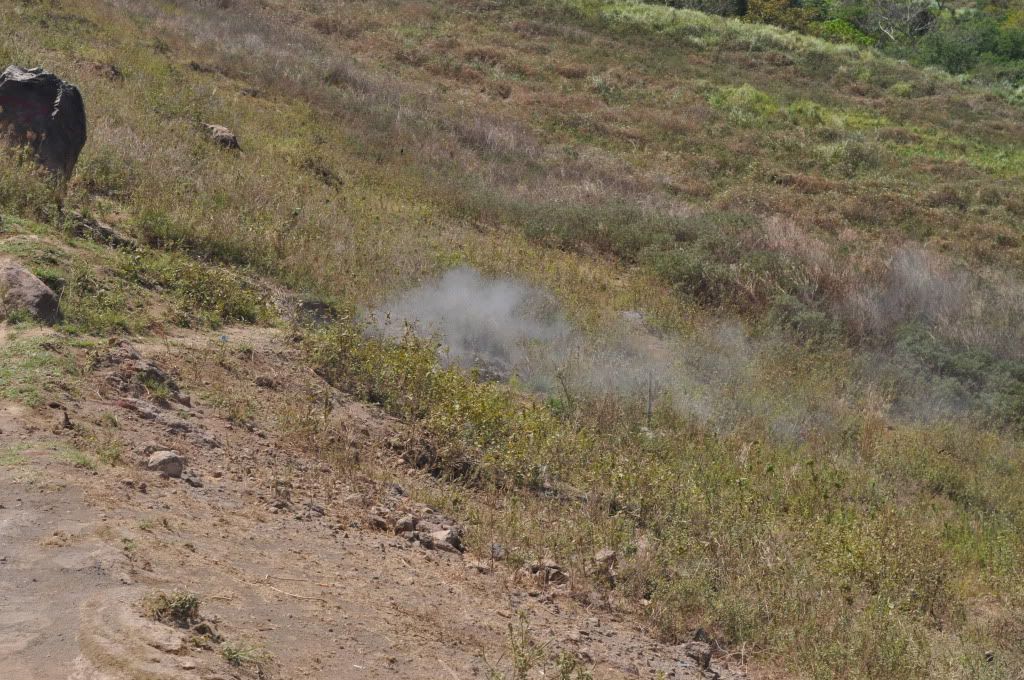 Some steam coming from the ground
Starbucks. A fair reward for our spent energy. :D
The next day, we caught the 7 am shuttle and headed for home or, eh, Brooke's Point. We were so excited for Katie to see where we live and what missionary life was like. Our first night in Brookes, we went to the Project and celebrated Danny's birthday. We were excited to have our missionary family meet our sister, she does after all complete the set. ;) Over the next couple days, we showed Katie around Brookes Point, we gave her a taste of what our favorite meals are in Palawan,
we brought her to our children's program, we had her participate in some Health lectures we were conducting at the project, we took her to our all time favorite church and Katie played her flute for special music (The members LOVED it, they thought it was quite the treat). We were just so happy to be able to show her what we do and have her experience our lives as missionaries. At 4am, Monday February 14 we took a shuttle to Puerto to catch our 11:30am flight to Manila to continue the next leg of our vacation. Pictures:
Our Favorite, little Haddie is now Biker Baby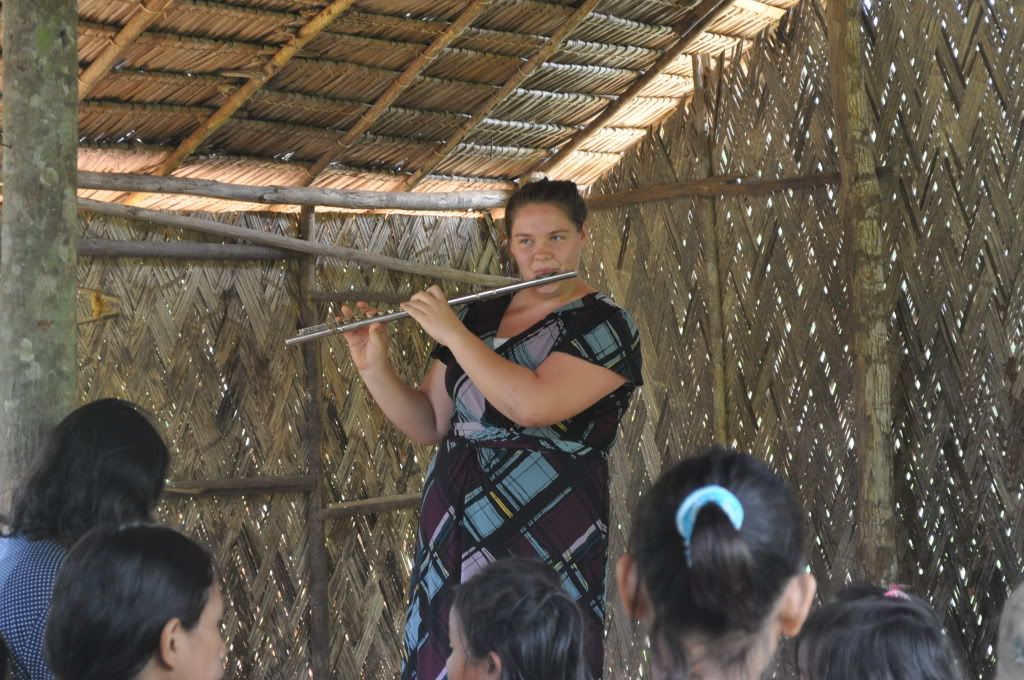 Katie played Amazing Grace for everyone. It was beautiful.
Upon arriving in Manila, we became women on a mission. The Mission? TO GET OUR BALIK BAYAN BOXES! Back in October, our parents, our grandma :(, and dozens of loving church members got together and collected items to send to us. The boxes were suppose to get to us by the 1st week of January, but we were still box-less. We had called the company numerous times and received no stable answers. So Sam decided we needed to take matters into our own hands and go out and find our boxes. We looked up the company's address on the internet and then with the help of Mapquest and our missionary friends Jam and Roy we mapped out a way to get there. After about 3 hours of travel, we finally found the company and were excited to learn that they had our boxes! When we asked the anticipated delivery date to Palawan they said, "Palawan? Hmm....thats pretty far from here, right?"
We were very excited to leave the Philippines (at least for a little while) and of course, getting another stamp in the passport never hurts ;) We had also heard such wonderful things about Singapore and were very excited to see this beautiful country. We were a little bummed that we would only be there for a day, but we were gonna try and make the most of it. The Singapore airport, we noticed, was one of the most beautiful airports we had ever seen. We learned from one of the locals that the airport is the hang out place for the people of Singapore.
If you want to go out to eat, shopping, or if you're just bored the airport is the place to go. Due to the recent Chinese New Year, it was heavily decorated with Year of the Rabbit Decorations. We took the metro to China town, where our hostel was for the night, and unloaded our stuff. Then we realized we were hungry and we found an amazing Vegetarian restaurant in China town. It was SOOO good. We then decided to tour around Chinatown, bought some souvenirs and then headed back to the hostel to find some other fun attractions we could visit. But when we arrived at the hostel our night of on again/off again sleep in an International Airport and the fact that we had to wake up and be at the airport by 5am got the better of us and we went to bed. The next morning we woke up and headed for the airport. After check-in we found a SUBWAY inside the airport and ate there. It had been the first time we had Subway in a VERY long time. After losing half our beauty supplies in security we boarded a plane for Jakarta, Indonesia! Pictures:

The Singapore Airport
This was as close as we got to the Singapore Flyer, the cab ride to the airport.

It was so funny. A couple days earlier, Katie said that she was really craving Subway. Then when we got into the Singapore Airport there was a HUGE sign for the Subway. Katie walked in and was like, "where should we eat?" We just laughed and started walking towards the Subway and she kept looking at other restaurants like "Should we eat there? or there?" Then when we were like 10 ft. away from the Subway station she finally saw it and was like, "You guys! Can we eat at Subway?!?" lol, what a dork!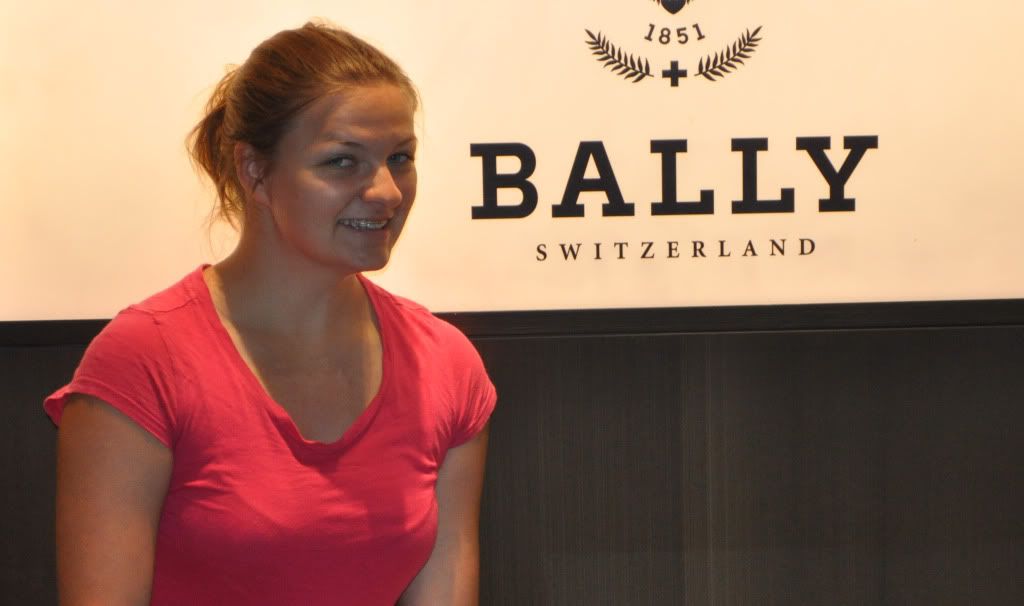 Ally Bally
Sam fell asleep almost immediately upon boarding the plane.
Our idea to go to Indonesia, came about when Sam was talking to her Indonesian friend, Kim, from Southern and had asked if we could possibly stay with Kim's parents if we visited Indonesia.
Kim contacted her parents and they were very excited to have us come and stay with them. I think there is only one word that can describe how we felt there
.......S P O I L E D ! ! They spoiled us from the moment we got off the plane till we got back on the plane to fly out. Kim's parents, Alberto and Lyna Hutapea were the nicest people we had ever met.
The first thing we did, upon arriving, was we ate at this amazing Indonesian restaurant. We were excited to learn that Indonesian food is spicy. We miss spicy! Filipinos don't really like spicy, so we don't get it very often. But the food was incredible. Then we drove for 3 hours to the city of Bandung, where the Hutapeas live. They are actually teachers at the Adventist University of Indonesia. When we got there, they took us to a mall so that we could buy Batik's (authentic Indonesian dresses). When we found the right ones, they bought them for us! We tried to object but they wouldn't let us.
Afterwards, though we were still full from lunch, we ate at another nice little restaurant. We also got Buko juice and fruit, which was REALLY good. Then we had to help them pick out donuts from J.CO for tomorrows breakfast. This donut shop had the most CLEVER names for their donuts. It made us giggle. Then we headed back to the Hutapea's home, where they had invited some students from the University over for Faculty Family Worship.
We were the guest speakers and talk to them about missionary life. The next day we spent the day touring the campus of the University (UNAI) with the students. Then we ate lunch with them.
Sam and Agnes
It was funny because they have this game, at the end of the meal, the girls all stack their trays and pass them down to the boys and then the boys play a game (that kinda looked like Rock, Paper, Scissors) and whoever loses has to take ALL the trays to the kitchen. It was rather humorous. After lunch we went through this door in the back gate that led to these AMAZING Villas.
Each one was unique and colorful and each one was HUGE! We came upon 1 in particular, it was Huge and it was currently vacant. The caretaker saw us admiring it so he took us inside for a tour.
It was gorgeous. Afterwards we went to this Puppy farm. It was kinda like a Animal shelter in the states, except just for dogs. We loved looking at all the different dogs...however, it made us miss our baby, Lucy. :(
Then we headed back to UNAI and packed up our stuff and headed to Jakarta. Since our flight left early in the morning and it was a 2 hour drive, we stayed with Alberto's sister, who lived near the airport. When we got to Jakarta, they treated us with free facials from this really nice Spa. It was so nice and so relaxing.
Sam and Katie with the masseuses
It was funny, because after we were done, our masseuses came in and asked "Can we take a picture with you??" Then they giggled and walked away. Then we ate amazing Indonesian food one last time :/ and headed to Alberto's sisters' house. The next morning we woke up and headed to the airport to catch our 7:30am flight. We, of course, had to get some Starbucks before we left. Then we boarded a plane headed back to Singapore. Pictures:
Katie: They drive on the wrong side of the road here.
Sam: No, actually they drive on the Right side.
Ha, ha.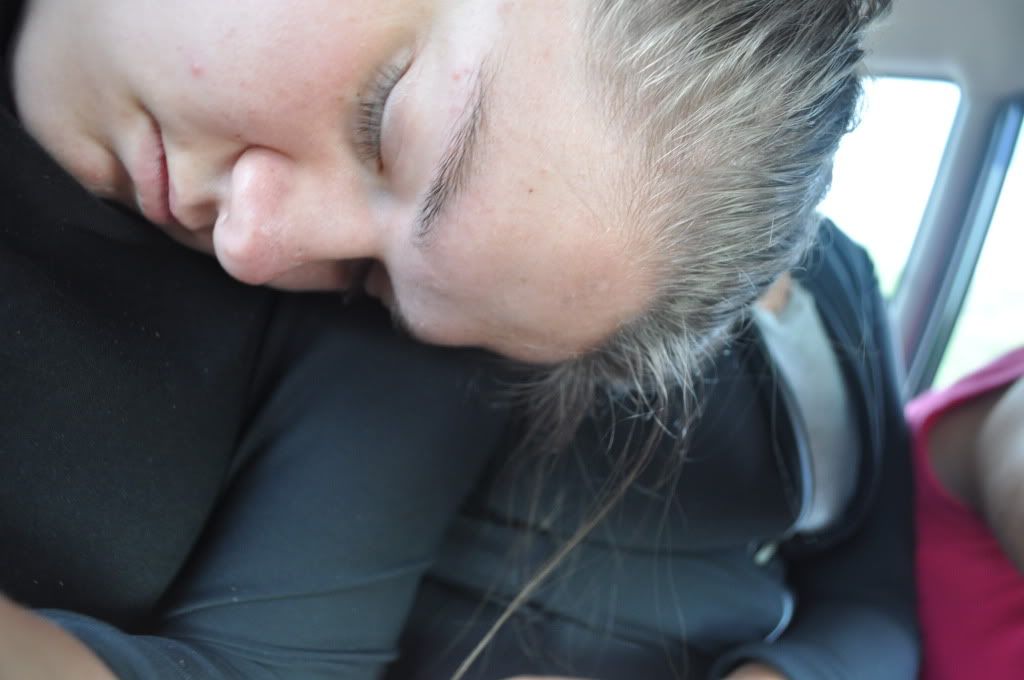 Katie fell asleep in the car. Ha, ha.
Clever Donut Names
lol, Icky Sushi. Thats a perfect restaurant name.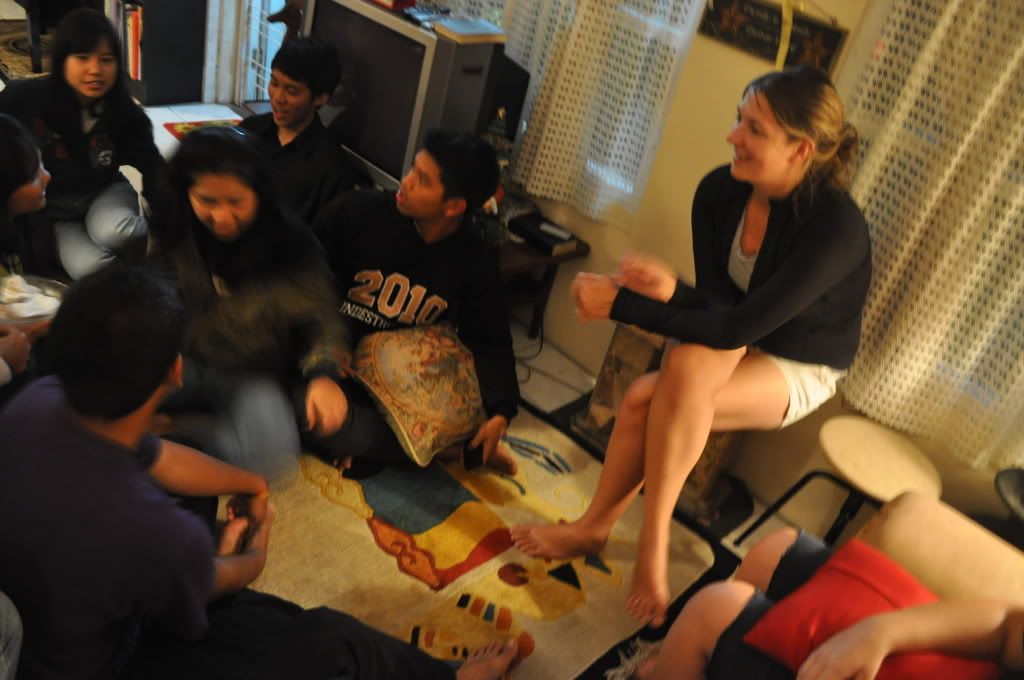 Faculty Family Worship
The guys playing for the trays. lol.
The house

The 3 of us with Dwight. The 3 of us with Alberto, Lyna, and the helper.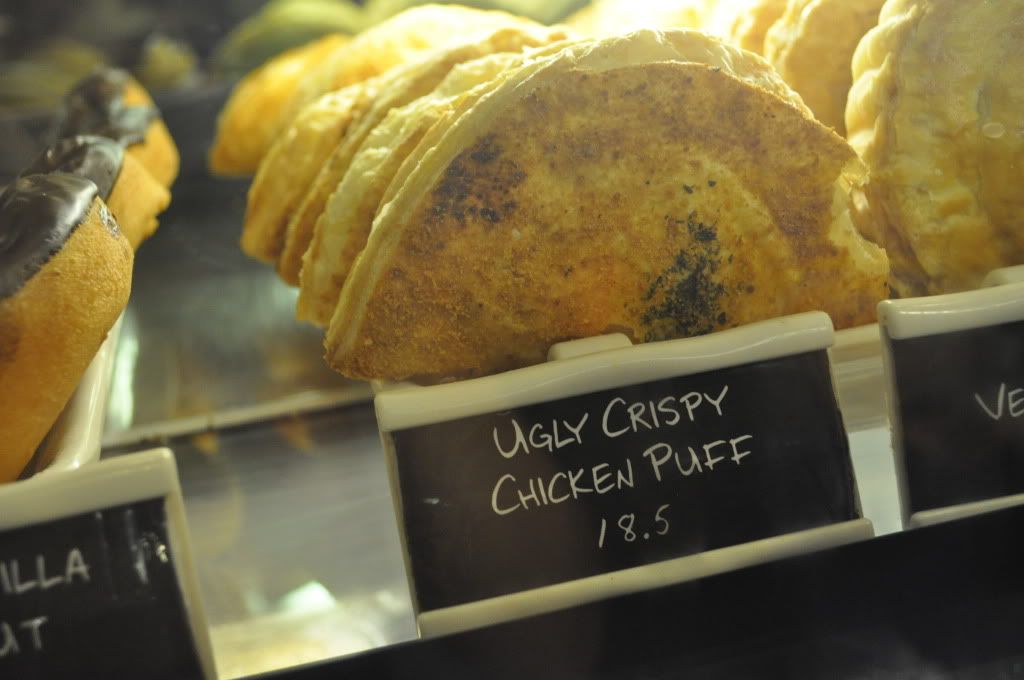 We just loved the name of this. lol.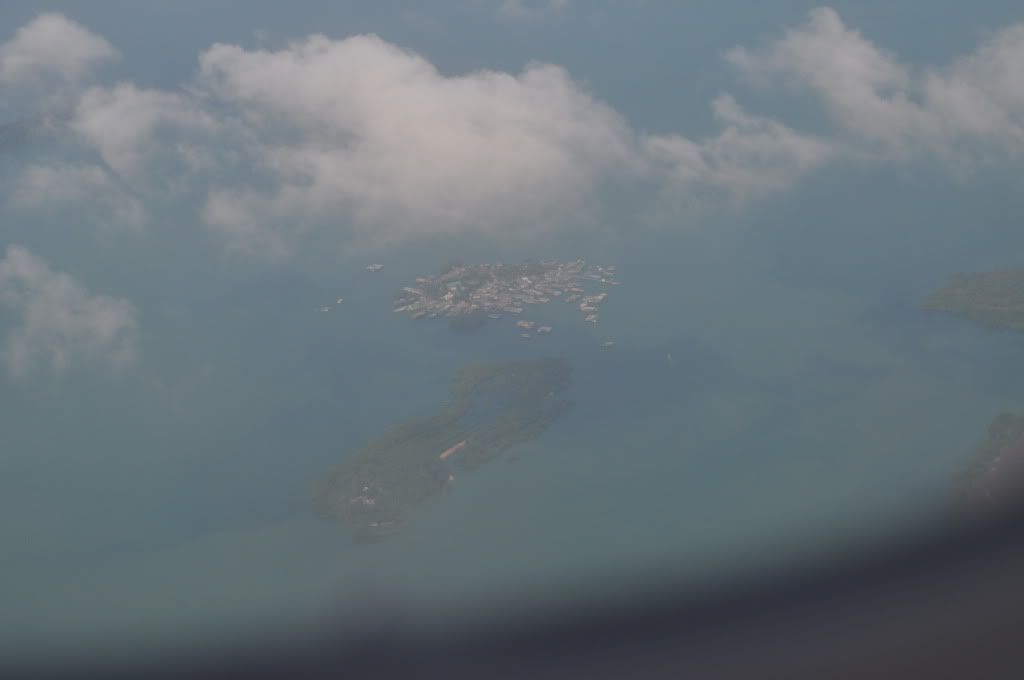 Goodbye Indonesia!
In the planning of our trip when Sam realized that we would be staying in Singapore Friday and Saturday she tried to find an English-speaking church to go to. When she did, she decided to email the Pastor and ask if there was a church member who would put us up for the night and then bring us to church in the morning.
The Pastor emailed back that we would be welcome to stay with him and his family for the night. So when we arrived in Singapore we found a place to eat and then went to the appointed waiting spot.
Pastor Chan came and picked us up and brought us to his home. Their family was very kind and very welcoming. We had a lot of fun talking with the Chan family. We were also excited/nervous because they had bought some Durian to eat for dessert that evening. "What is Durian?" you are probably asking. Well, allow us to explain. Durian is a fruit that is widely known and revered in southeast Asia as "King of the fruits". It is known for its distinctive large size, thorn-covered husk and its unique STENCH! We've heard about it quite a bit in the Philippines. The fruit that reeks, but tastes good...once you get past the stench. We've always wanted to try it but never had the opportunity.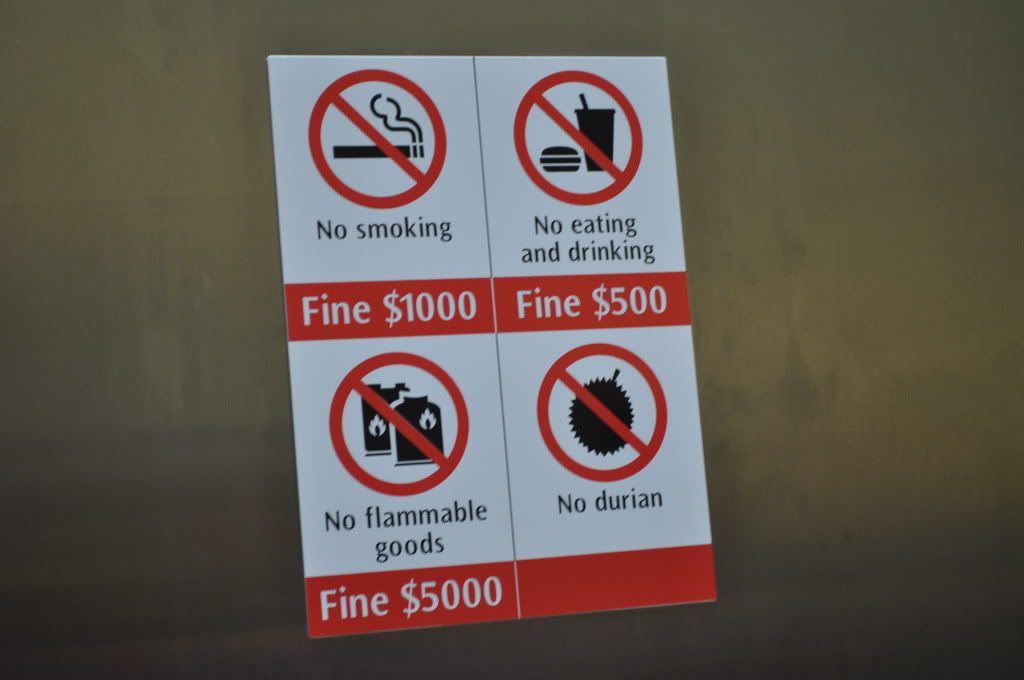 This is a sign for the subway.

So when Pastor Chan brought it out, we tried it and....the critics were right....it smells AWFUL, but it doesn't taste so bad...however the after-taste was UNBEARABLE. So that was our first...and most likely last...encounter with Durian. After supper, we were talking with Pastor Chan and he said that he was converted to Adventism through the Health message. That being the case, he now enjoys promoting the health message to people. But the thing he promotes the most is the Liver Cleanse. He told us about his 18-hr Liver Cleanse and then talked about how it had changed so many people's lives. Long story short, we got a copy of his powerpoint and are hoping to try out this Liver Cleanse, so that we can live a healthier life. The next day we went to church and we met a lot of great people.
Then after potluck, we headed to the airport, but this time we were sad. It was then that it occurred to us that Katie would be leaving us in less than 24 hours :( We checked into the airport and, of course, made a stop at Starbucks :) and then boarded our flight back to Manila. (Allison, once again, dropped the ball and we didn't get any pictures of us with the Chan Family. :/ ) Pictures: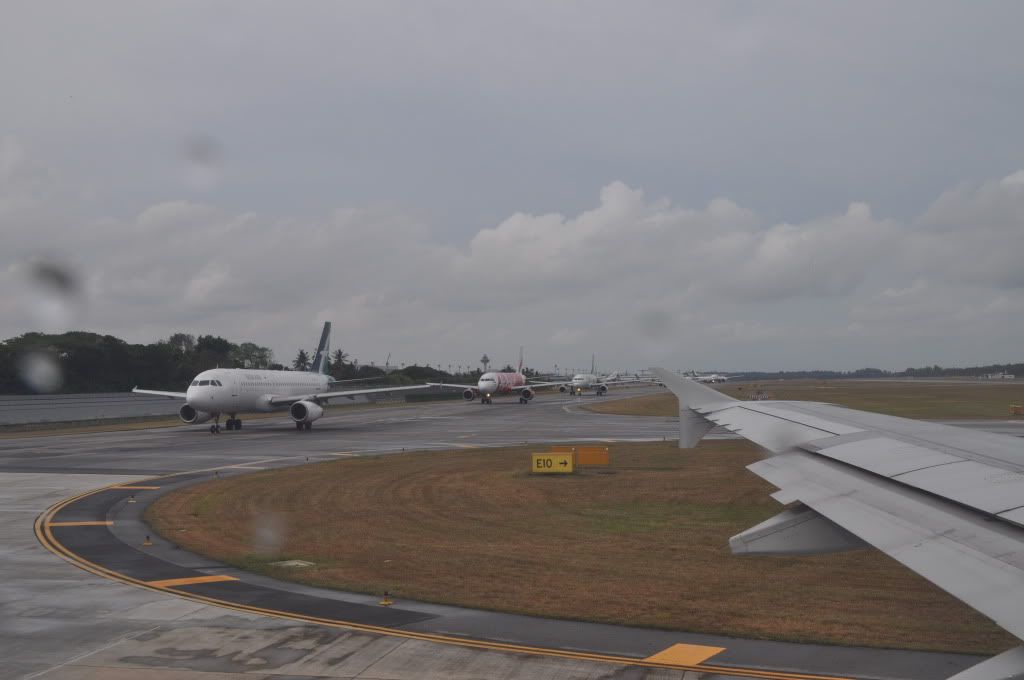 A long line up to take off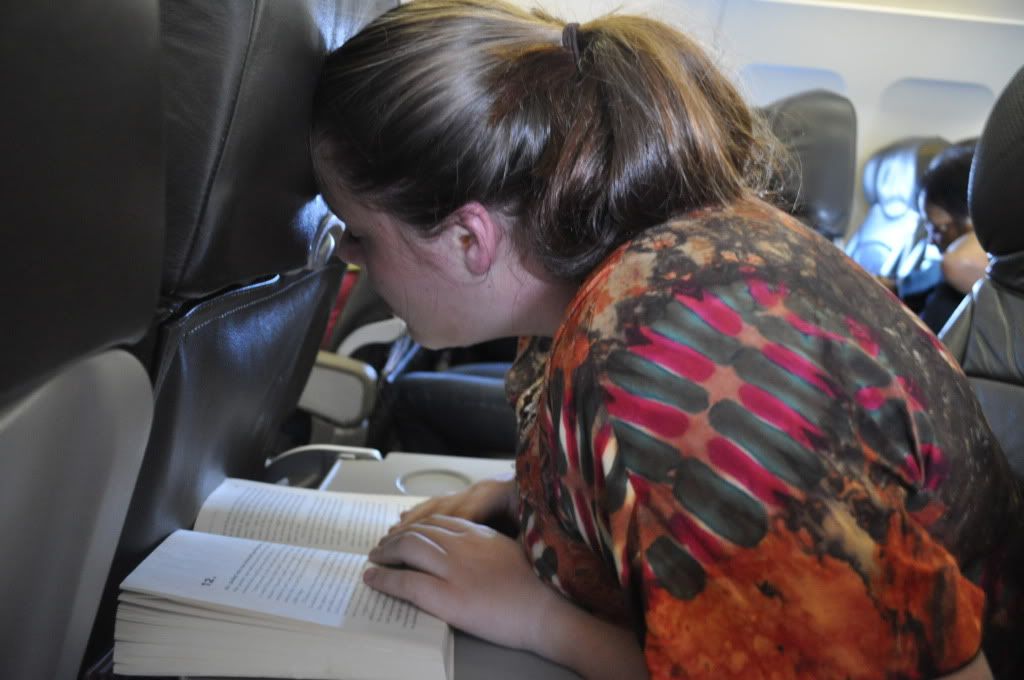 Katie was gonna finish her book so she could be done with her homework. Then she got caught by the sleeper cam.
We arrived in Manila at 6pm on February 19 and Katie's flight wasn't suppose to leave until 6am, February 20. So we decided to waste time by going to the Mall of Asia. We stayed there till it closed and then went to Shakey's till midnight again. When Shakey's closed we weren't sure what to do, because we couldn't wait in the airport with Katie. So we went next door to the 24hr Jollibee and bought an ice cream cone and then tried to get some shut eye there. After awhile, the security guard came up to Allison and said, "Are these your friends?" gesturing to the two white girls sleeping on the table. "Yes" she replied. "They can't sleep here." he said "Oh, ok." Allison sadly replied. Then the security guard got a sympathetic look in his eye and said, "But they can sleep upstairs" (referring to the upstairs dining room) "But the upstairs dining room is closed for the night" Allison replied. "Yeah, well its okay. I'll open it" It was SOOO nice. They just let us sleep upstairs in the Jollibee and it was quiet and there weren't people around. It was perfect. We were so appreciative.
After sleeping for a couple hours, we headed to the airport and said our goodbye's to Katie. It had been so great to see her and spend time with her. But we weren't too discouraged because in less than 60 days, we would be the ones checking into the International Airport. And we had ALOT to keep us busy till then....