A couple of days after returning from Balabac, Wendy received a phone call from a social worker in Brooke's Point. She learned that some American doctors were coming to Puerto to provide free surgeries to Filipino people in need. One of the surgeries being provided was cleft palate/lip surgery, and they were offering us 6 slots (and each patient was allowed to bring 1 companion). We were really excited, however, we received this phone call Friday night and the vans were leaving early Sunday morning. So we had a lot of work to do and just over 24 hours to do it all.
The first call we made was to Arman and Randy, the missionaries down in Balabac. We told them to go find Reynan, the little boy we had mentioned in the last Balabac blog, and any other cleft palate/lip patients they could find. We, also, went around to all the patients we knew in Brooke's Point who wanted this surgery. However, all of the patients we knew in Brooke's were either sick, too malnourished, or were too afraid to go through with the surgery. So we had prepared ourselves to only have one candidate for surgery. But then Arman and Randy called back informing us that they had found 4 patients and 2 companions (guardians for 2 of the patients) that were willing to come and they put them on a boat Sabbath morning headed for Rio Tuba.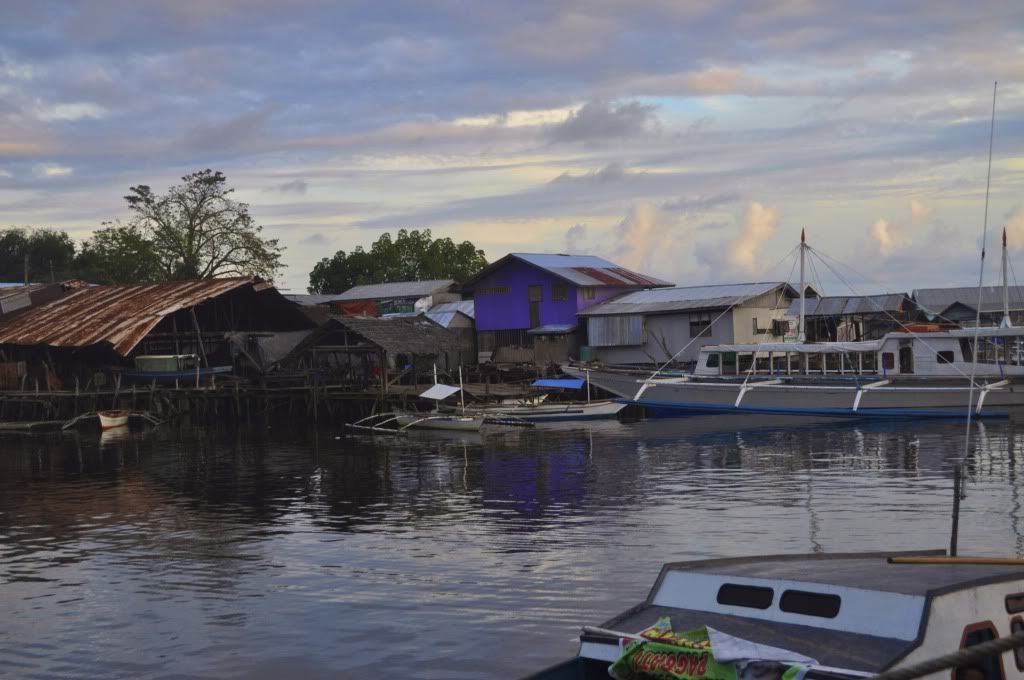 When the social worker had originally called, she had told us that lodging and food would be provided for 90 pesos per person, per day. But after we already had the patients on their way, she called back to inform us that lodging was full and we would need to find another place to stay. So Wendy called her friends, Ed and Merilyn Brennan from AWA (Adventist World Aviation) in Puerto, to see if they could help us out. They were happy to take us in and even offered to feed us and transport us around to where we needed to go for FREE. We were so excited that everything was falling into place.
Then Wendy realized that we really needed to send a PAMAS representative to act as an advocate for these patients. Since Wendy was leaving 2 days later she wasn't able to be the representative and since Sam is one of the only nurses on the project, it would be hard for her to leave. So Wendy decided to send Allison. "It's perfect, because this way you can document the entire thing" Wendy explained. Allison was honored and so excited for the opportunity. So she packed a bag of daily necessities and her camera equipment and was ready to go.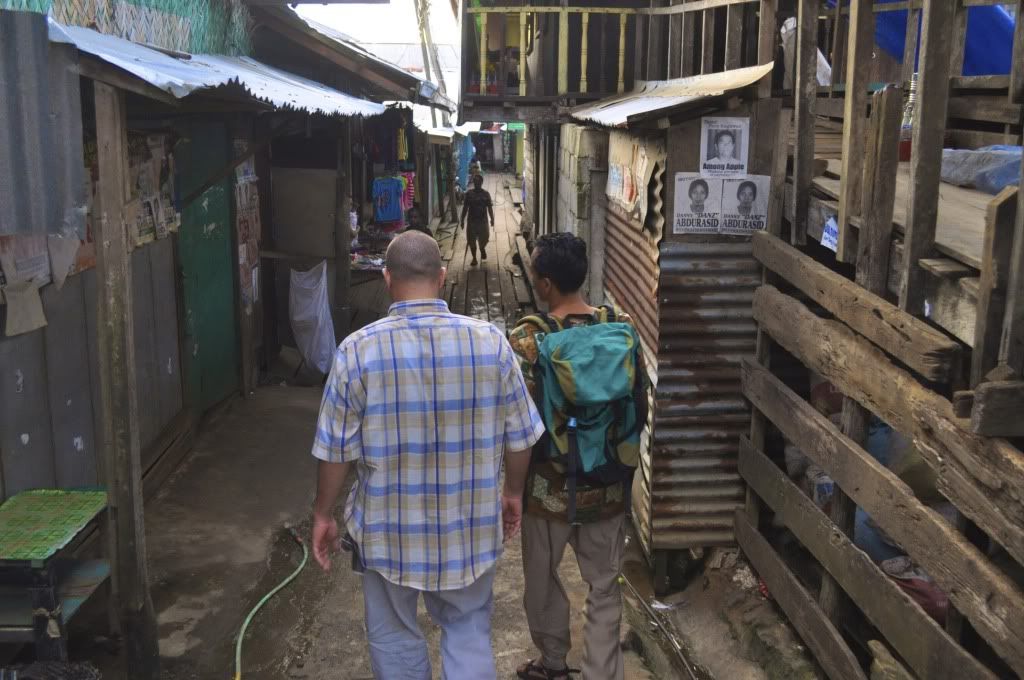 Allison, Danny, and Roy went down to Rio Tuba to pick up the patients on Sabbath afternoon and returned to Brookes by 9 pm. Then we fed them and were able to talk with the patients a little bit.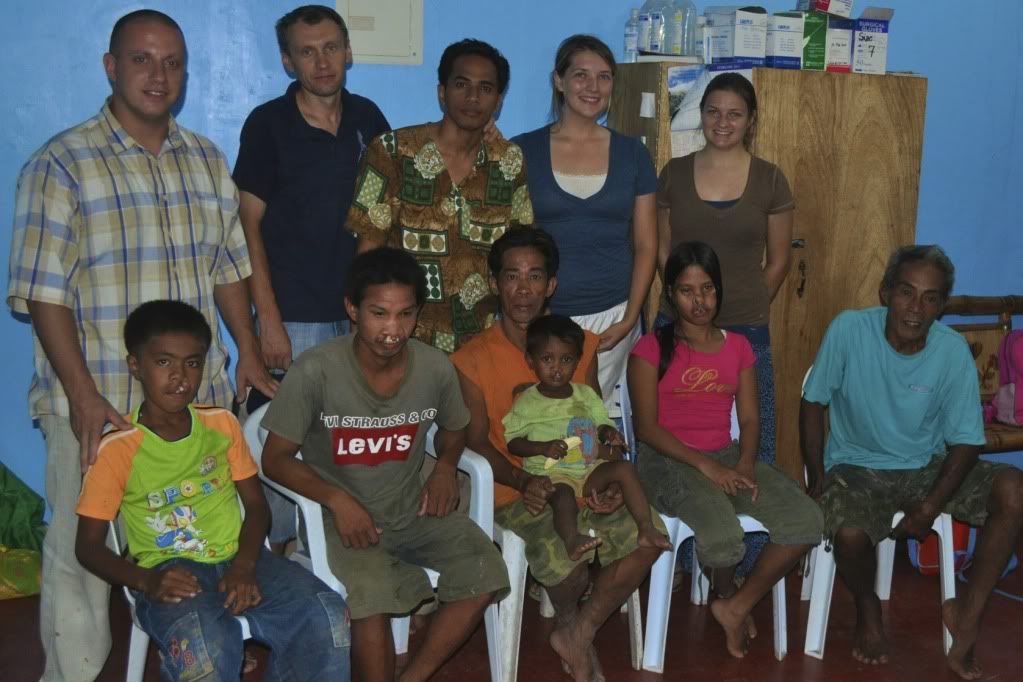 Theres another thing you should know about most of the native Filipino people. If their child is born with any form of defect, the parents often nickname them by that defect. For example, in Molbog, the patients native language, Ongi means cleft lip. So most of these patients have been called Ongi their entire lives. This isn't meant to cause them pain, but to make them familiar with this name so that if a stranger walks up and says "Look! Ongi!" They will already be use to being referred to that way. So when we asked each of them what their names were they each replied "Ongi", then we would ask them for their REAL names and they would have to think for a second and then reply. After some small talk we were able to learn a little bit about each of them: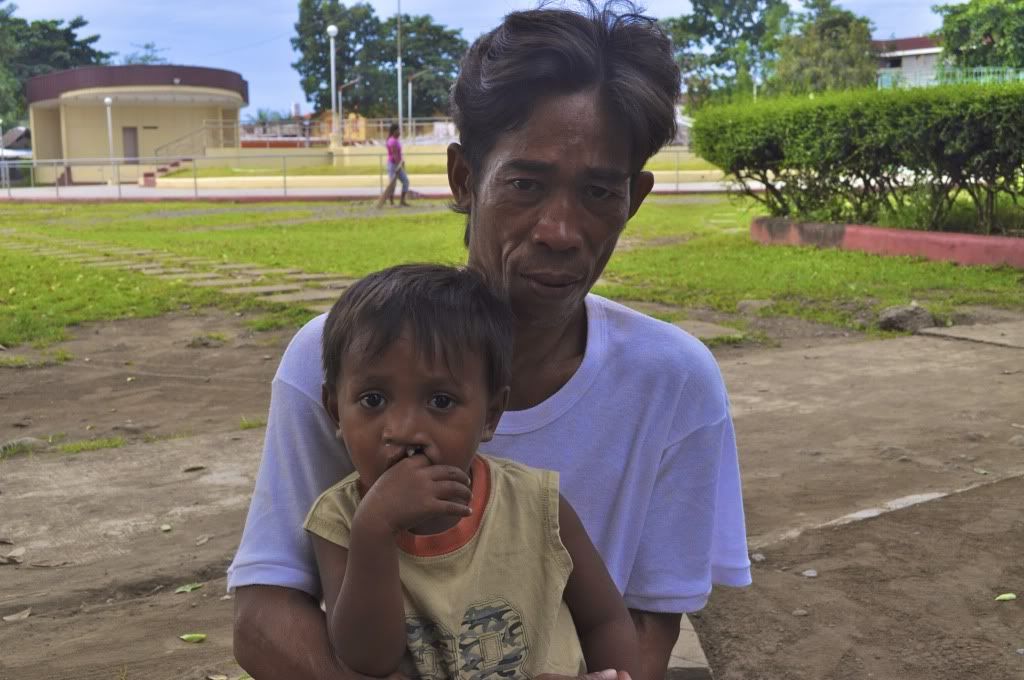 Nuni Amalong was 4 years old (according to his father, but he appeared to be much younger) He was the youngest of 4 children and the only one born with cleft lip. His father came along as his companion, even though his mother was against the whole thing. She was convinced that God had made him that way and they shouldn't try and change it. But his father wanted him to have a chance at a normal life. So even though it made the mother mad, they came on this trip. After observing Nuni for merely a day, we realized that he was one of the happiest little boys we had ever seen, which was incredibly humbling.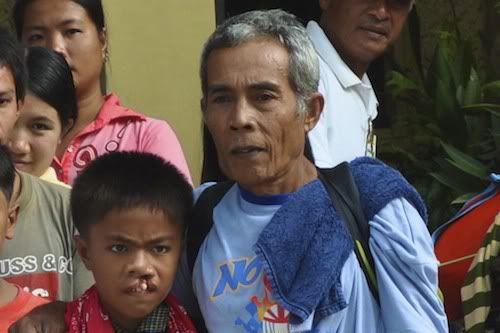 Reynan Samlon was 12 years old. He was the little boy that we had met during our medical mission in Balabac. His dad had left when he was just a little boy, so his grandpa has been his only father figure for a very long time. His grandpa came along as his companion. Though Reynan was so shy, we thought he was sooo adorable!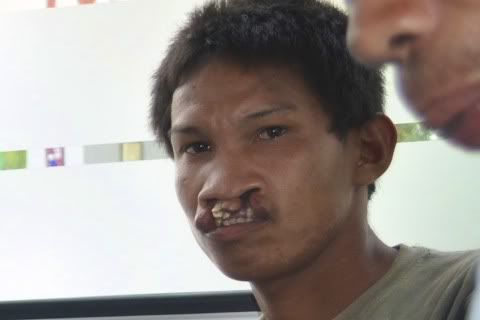 Ongi Usah was 25 years old. It broke our hearts when we asked him what his name was, he said "Ongi Usah". Then we asked him what his real name was, he replied, "I don't know. Ongi is all I've ever known" He was a different case than the others because he had a double cleft lip. He was married and had 2 kids that lived on a different island. None of his family members knew that he was here, because he was hoping to surprise them all. (Awww!!!)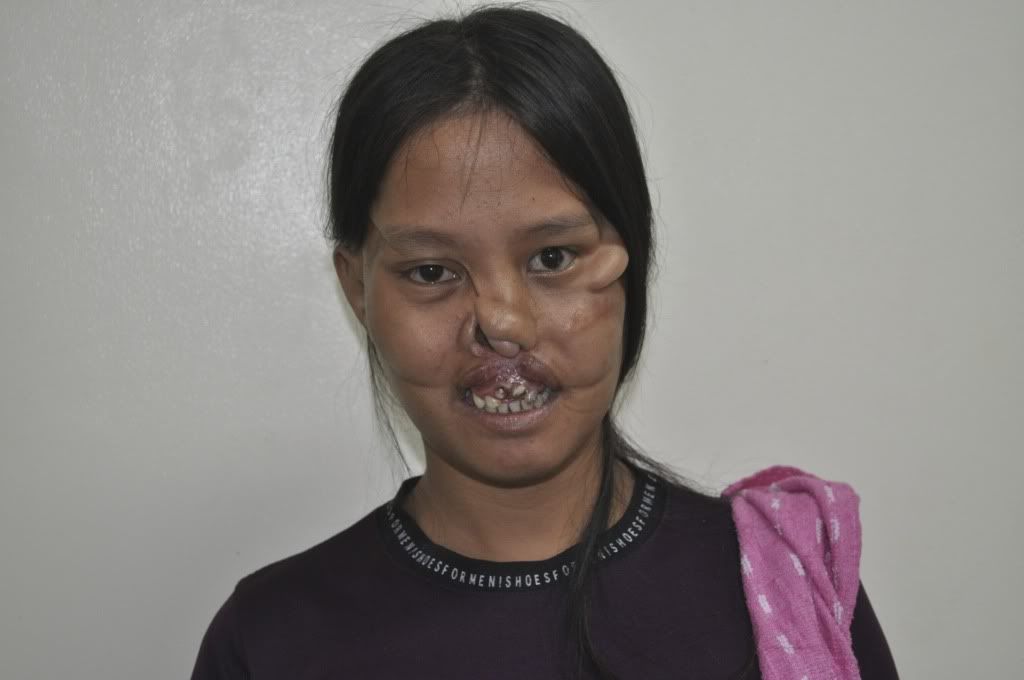 Lastly, Aina Ulmedo. Aina was 24 years old and she was born with a cleft lip that reached all the way up, through her nose and to her right eye. There was no cartilage in her nose, it was merely a flap of skin covering her nostrils. We had all admitted that she was probably one of the worst cleft lip cases that would be going to Puerto. Though Aina had only up to a 6th grade education, she was very smart. Along with her native tongue of Molbolg, she also spoke Tagalog, Ilonggo, and a little bit of English. She confessed to us that she had always wanted to continue with school but had never had the opportunity. Her mother and eldest sibling had died from cancer a couple years earlier and her dad was gone. She lived with her uncle on the island of Balabac.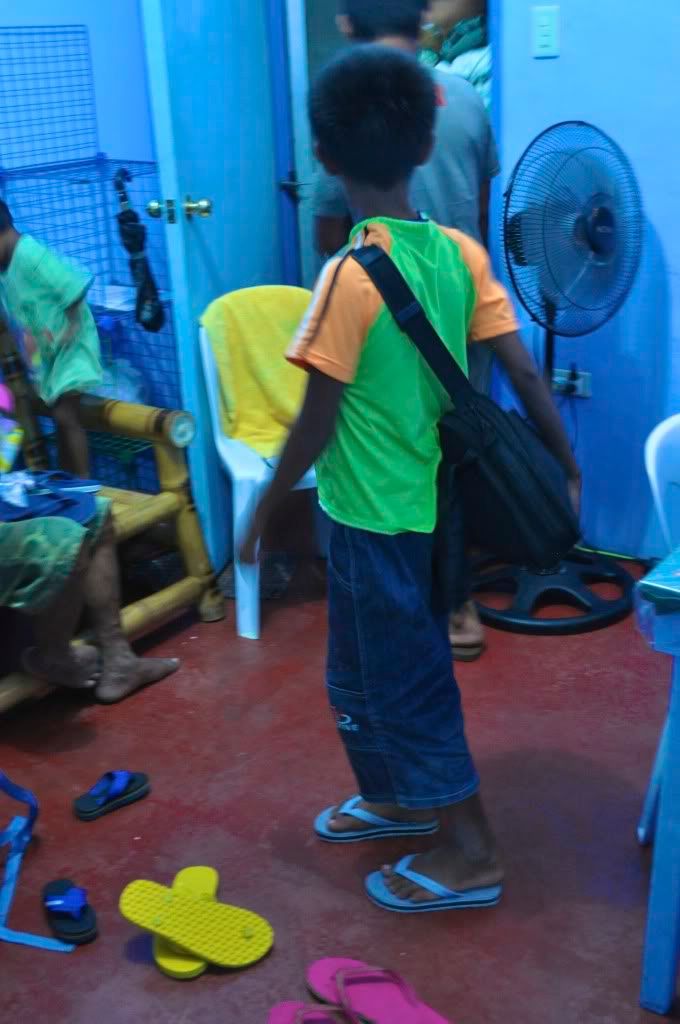 Upon talking with the patients we also began to realize that the clothes on their backs and in their bags were literally all they had. Reynan had come all the way from Balabac with no shoes, because he didn't have any. Nuni had 1 shirt as is clothing. No underwear, no pants, just the 1 shirt. Most of the others only had 1 other change of clothes and 1 pair of flip-flops. So we gave them all a pair of flip-flops that we had boughten to distribute to people in need. We also went through our attics to see if we could find any clothes that would fit any of them. Afterwards we found a place for all of them to sleep and went to bed.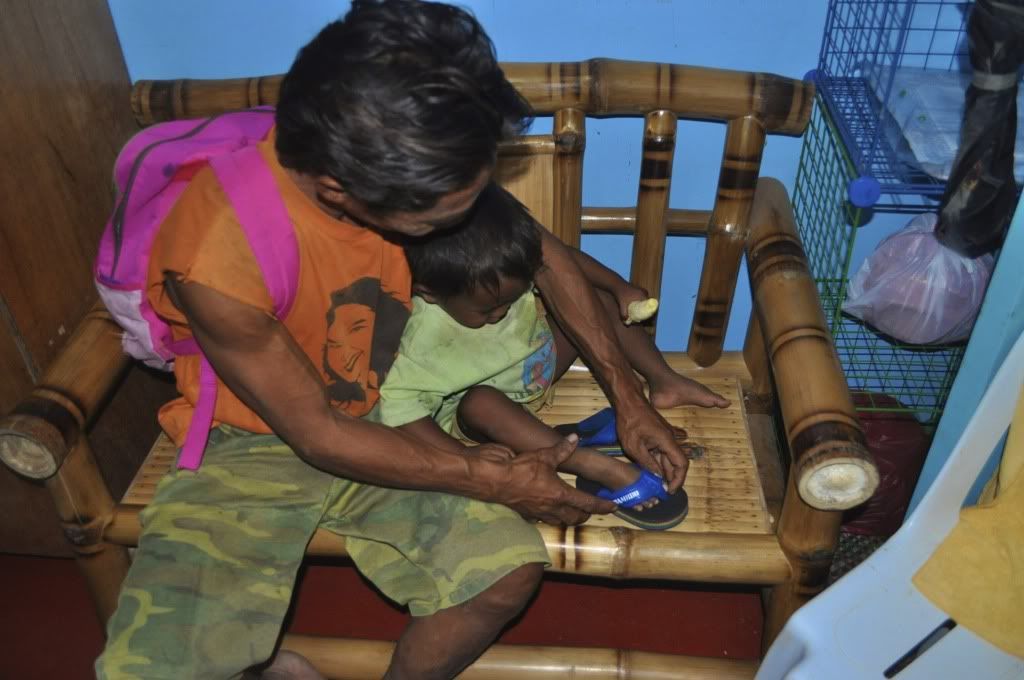 Nuni tries on his new flip-flops
The next morning we woke up at 6am, ate breakfast, and headed to the Brooke's Point City Hall. There were over 75 patients and companions awaiting departure. After waiting for awhile we got all the patients checked in. Fear struck in our hearts as the social worker told us to explain to our patients that since they were last minute patients, there was the chance that they wouldn't receive surgery. But we would have to go to Puerto and wait and see how everyone else was scheduled. We explained it to all the patients, and they all understood and decided to proceed.

(Left) The entire group of surgery patients from Brooke's Point. (Right) Our 6 patients and companions.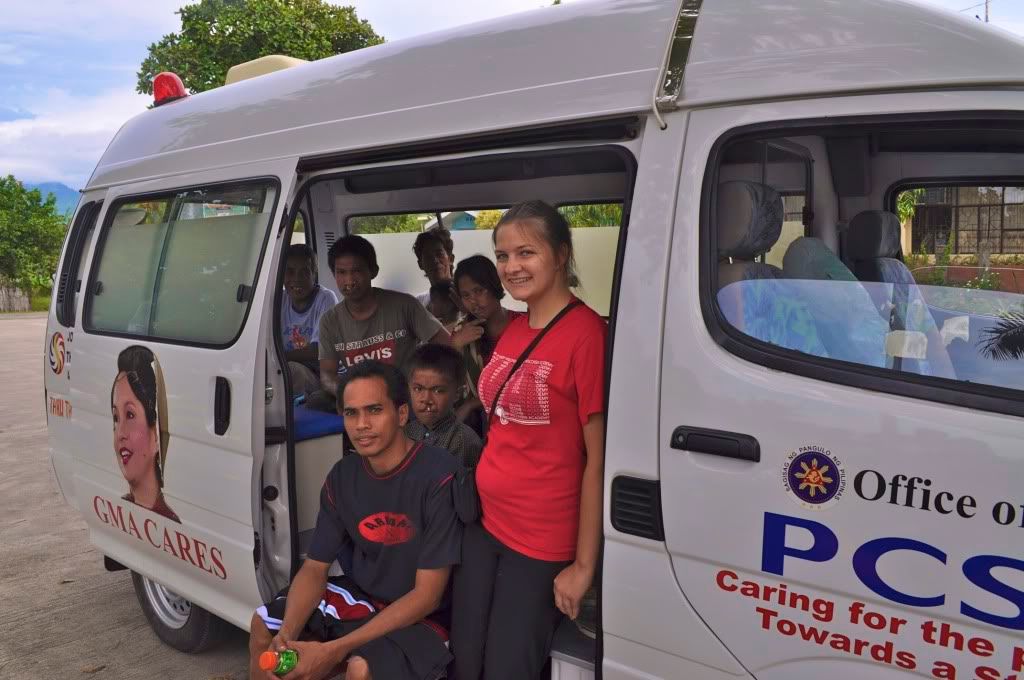 Then the vehicles arrived, there was a jeepney, two shuttles, and an ambulance. Roy took a look at the ambulance and said, "Look, there is your ride!" Allison looked inside and saw there were no seats, just a stretcher and a bench. "Yeah, right! I wish." she replied. As people started to load into the vehicles, Allison said a prayer hoping that she wouldn't be squished like a sardine into one of these vehicles but more importantly that she wouldn't be separated from her patients. Soon the shuttles and jeepney were completely full and the only people without a spot were Allison and her patients. So the social worker said, "Ok, the 7 of you will just ride in the ambulance." Soooo cool!! Not only were they not all separated, but they got the most comfortable ride to Puerto.
On the drive down to Puerto, a very nervous Allison said a prayer,
"Dear Jesus, Please be with all of these patients. Calm there nerves and help them not to become too homesick. Please Lord, help them all to be able to receive surgery. It would break their hearts to come all this way for nothing, and I don't think I could witness such a pain. Also, Lord, be with me. I speak very little Tagalog and yet I am responsible for leading this Filipinos through this whole process. Also, I'm not a leader. I'm not pushy or demanding. I don't see myself as an advocate, Lord. But help me, to become one this next week. Help me to know who to talk to and what to say to get these patients the help they need. Thank you so much for everything you do. I love you very much. Amen."
Little did she know, God was already putting the pieces together for her. In ways she never expected. Till next time...
~Me and Her